Os Gemeos rules Deitch Projects alsof het alle dagen mooi weer is.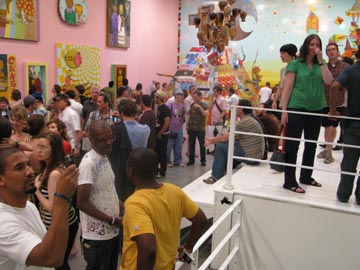 Met schilderijen, schilderijen, poppen, dingen en muziekapparaten. Beplakt en beschilderd, beschreven en behangen alsof hun leven er vanaf hangt.
Spiegeltje spiegeltje.
Details als gevaarlijk zelfverdedigings gereedschap uit de slopperwijken, en meer en meer.
Nog zo´n mooitje, de hele familie kalebas met hier en daar een kwaaie noot ertussen.
En dan nog eens een van hun klassieke truuks, een verrassende buitenkant met een nog verrassendere binnenkant (dit keer met spiegels en discolampen beplakt videocamera nest). Monstergroot (ik schat zo´n 15 voet hoog), om de hele ruimte aan te kunnen.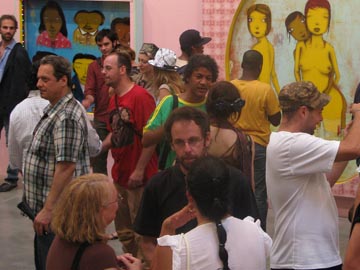 Voor de gebroeders zit het erop, die kunnen morgen eindelijk weer naar huis.
En is het aan gastheer Deitch om van vandalisme goud te maken.
[…]nog eeentje op de valreep van de terugweg dan tot slot. Altijd weer feest om als toegift nog een kleine zwarte parel te ontdekken: Neckface, the New York prince of ugly.
vr. groet van uw gelegenheidscorrespondent,