Op de bovenverdiep van de Witte de With een selectie straffe staaltjes zero content van de hand van de Nieuw Zeelandse New Yorker Billy Apple ®.
Deel I, A History of the Brand is nog te zien tot 13 september 2009
wdw.nl/project.php?id=196&taal=_ned
Waarde gekoppeld aan goudprijs.
Een Gratis van Billy Apple.
Jaloersmakend prachtschilderij: For Sale, 1961.
Daar staat een N.F.S. tegenover.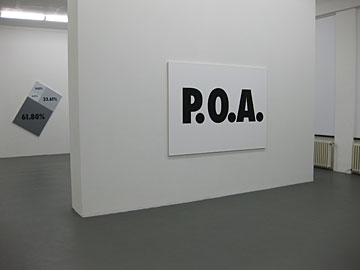 Vier meesterwerken.
De serie Paid (1987): "The artist has to live like everybody else".
Detail
The Beatles/Mac kunnen wel inpakken.
Voor de nakende Billy Apple ® deel II belooft Billy Apple ® de eerste verdieping van Witte de With onder handen te nemen, de tentoonstellingsruimtes te verbeteren. De tentoonstelling wordt vervolmaakt met billboards door de stad.
Nog tot 13 september.
wdw.nl/project.php?id=196&taal=_ned
Nog slechts tot 14 juni te zien: werk van de shortlistkandidaten van Prix de Rome 2009, incluis werk van de winnaar Nicoline van Harskamp.
Krankzinnig complex en krankzinnig gelaagd en met een heel hoog zelfverwijzend karakter (zero content alarm!) en je moet er minstens tien minuten voor uittrekken voordat het begint te werken, voordat de muntjes vallen: The Power of Listening van Nicoline van Harskamp.
Volstrekt niet reproduceerbaar werk. Niet na te vertellen, niet in kiekjes te vatten.
Doen is gaan.
Een Revox, twee panelen, Bastiaans nagespeeld op de audio: het gelijkt wel kunst. Rosella Biscotti. Tweede prijs Prix de Rome.
Fotoserie Rob Hornstra
Vergulde haaientand
Jasmijn Visser.
Nog tot 14 juni te zien: Prix de Rome 2009.
Ingevoegd 25 juni 17:24
De twee tijdelijke Billy Apple®'s ter gelegenheid van deel 2.