Je bent have en goed, lijf en leden niet veilig in het getto. Met officiele diefstalgarantie van de Amsterdamse polities.
Maandagnacht, 22 juni. Ergens in de krochten van de Amsterdamse Bijlmer in een verbouwde parkeergarage een eenmalig concert van The Pet Shop Boys – helemaal uit Londen.
Het nummer van het jaar Love etc krachtig ondersteund door de prachtigste visuals van Han Hoogerbrugge.
Building a Wall
Overgaand in Go West, een van de vele hoogtepunten.
Two Divided By Zero / Why Don't We Live Together?
Always On My Mind
Left To My Own Devices
The Way It Used To Be
Jealousy. Met duwen en trekken en hopsen in de traditie van Penny de Jager. Dans en choreografie zijn niet van de allerhoogste kwaliteit.
Grappige mannetjes met witte helmpjes bouwen gedurende het hele concert onvermoeibaar door aan het decor.
Suburbia
Het op een na nummer van het jaar All Over the World ondersteund door frisse danseressen.
King of Rome
Se A Vida É, Viva La Vida en knallende afsluiter It's A Sin
Toegiften: Being Boring, West End Girls
De restanten van een intens en enthousiast druggebruik door een jong, hip en mooi publiek.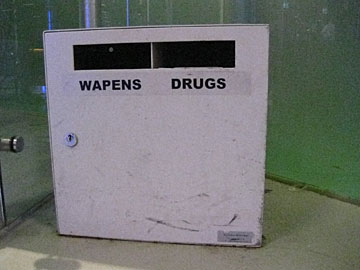 Gratis verstrekt door de Amsterdamse polities.
Pinnen is mogelijk in de kleurrijke winkel vol leuke hebbedingetjes.
David Lynch en Roger Federer waren er ook:
prostress.com/2009/03/02/chitchat16/
Een fantastisch eenmalig concert, speciaal voor their only fan in Holland.