Adrian Piper, Catalysis IV, 1970-71.
Kunst en feminisme op z'n breedst, van de onderstaande kunstenaars is allerlei werk te zien. Bijgaande foto's is nog niet de helft van het gepresenteerde.
T/m 23 augustus a.s.
(een bericht van Sannetje van Haarst)
Ana Mendieta, Untitled (Body Prints), Untitled (Cosmetic Facial Variations) 1972.
Anna Verweij-Verschuure, Imagine a rose garden, 1979.
Anne-mie van Kerkhoven, Mentaal Genot, 1987.
Barbara Kruger, We are not what we seen, 1988 en Maria Roosen, Zonder titel, 2006.
Berni Searle, Conversing with Pane, 2000.
Carolee Schneemann, Forbidden Actions, 1979.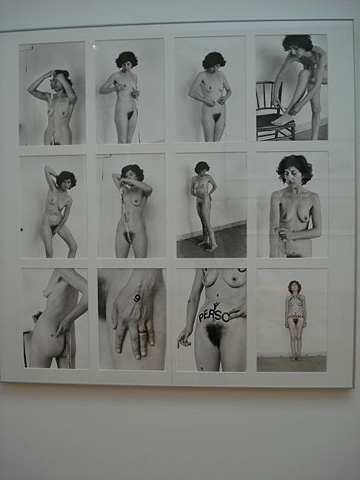 Esther Ferrer, Intime et personnel 1967-1976.
Ewa Partum, Verandering, Mijn probleem is het probleem van een vrouw, 1979.
Ferdi Tajiri, Plastic Phantastic Lover, 1968-69 en Charlotte Schleiffert, They know my butt before my name, 2005.
Ghazel, Me, 2003-08.
Gina Pane, detail, Discours mou et mat, 1975.
Helen Chadwick, Billy Bud, 1993.
Helena Almeida, Tela habitade, 1976.
Inez van Lamsweerde, Andy, 1995.
Kara Walker, Emancipation Approximation, 2000-01.
Kinke Kooi, Hairy Woman, 1992.
Kirsten Justesen, Circumstances 1773.
Klaar van der Lippe, O Mode, Stockholm, 1995.
L A Raeven, Echoes of despair, 2007.
Lida Abdul, Four months performance, 1998.
Lili Dujouri, Hommage a I, 1972.
Lily van der Stokker, Kees en ik, 2000 en Tracey Emin, All the Loving (underwear box), 1997.
Louise Bourgeois, Trani Episode, 1971-2005.
Lydia Schouten, Sleeping Beauties, 1990.
Mandana Moghaddam, Chelgis, 2003.
Margaret Harrison, Rape, 1978.
Maria Friberg, Somewhere else, 1998.J
Melanie Bonajo, Furniture Bondage 03 (Janneke), 2007.
Monali Meher, But I was never a bride, 2004.
Nezaket Ekici, Blind 2007.
Nil Yalter, Headless, 1974.
Parastou Forouhar, detail Thousand and on day, 2003.
Parastou Forouhar, Thousand and one day, 2003, Countdown, 2008.
Regina José Galindo, Perra, 2006, Peso, 2006.
Renate Bertlmann, Zartliche Beruhrungen, 1976.
Ria Pacquée, Zonder titel, 1989, detail.
Risk Hazekamp, Sense les donnes, 2006.
Rosemarie Trockel, Zonder titel, 1987.
Sarah Lucas, Bitch 1995.
Shadi Ghadirian, onderdeel van Like Every Day Series, 2001.
Suzanne van Rossenberg, detail, A Room with a Lesbian View, 2007.
Tessa M Diaz Nerio, Hommage a Saartje Baartman, 2007.
Tracy Rose, La Messie, 2003.
VALIE EXPORT, Tapp und tastkino, 1968, Genitialpanik, 1969.
Yayoi Kusama, Macaroni Bag, 1966 en Natalia LL, Consumer Art, 1972.
Zanele Muholi, Miss D'Vine I, 2007.
Zineb Sedira, La maison de la mere, 2002.