Any Other Business organiseerde een geënsceneerde conferentie in het Regardz Planetarium Meeting Center in Amsterdam ZO.
Update 21-10 11:04: Foto's JB ingevoegd
Modus operandi: je trekt een blik Amerikanen open (v.l.n.r. San Francisco, Baltimore en New York – meestal verblijvend in Nederland) en huurt mensen uit diverse andere landen in (in totaal een stuk of veertig!)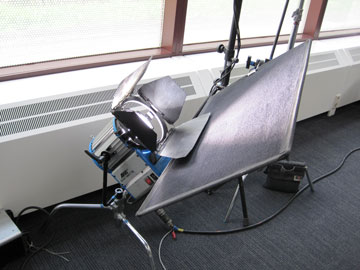 Brengt ze in een goed verlichte ruimte.
Voor de nodige camera's.
En kijkt nauwlettend toe of ze je script en aanwijzingen goed volgen.
Na het welkomstwoord splitst men zich in groepen op: in totaal zijn er niet minder dan 10 bijeenkomsten.
Deze dame bepleit activisme vanuit het kantoor.
'Learn together, live together, merge into one.'
Vragen uit het publiek leveren gelukkig tegengeluid op.
'Non-violence works only for priviliged people. (…)  Violent revolution is inevitable!.'
Update 21-10 11:04: Foto's JB ingevoegd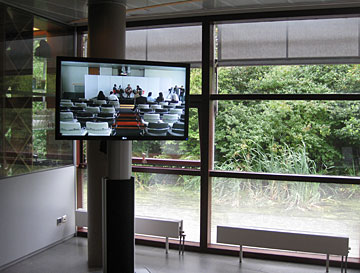 Stampvol, afgeladen.
Publieksvraag tijdens de course Peacefull Communication in Private Life, Education, Government and Business door Max Bonner, communication trainer.
Dreigend handgemeen tijdens Uniformity in Public Conduct. Een (slecht gemodereerd) debat tussen Mohammed Halabi en Olivia Cunningham.
The Potential of Communist Politics in Contemporary Philosophy.
Any Other Business: groots opgezet en op zijn best op de saaiste momenten. Wanneer er schijnbaar niets gebeurt – je luister naar een of andere lezing, zit aan bij een mak debat ergens over – voel je je deelnemer in plaats van toeschouwer. Kantelmoment vindt plaats zodra je gewaar wordt dat er geacteerd wordt. Op dat moment word je als deelnemer bij een symposion terug toeschouwer en wordt deze grootse totaalperformance even weer 'gewoon' theater.
Alles maar dan ook alles is uitgeschreven. Gedurende de dag gebeurt er steeds meer. Tijdens The Potential of Communist Politics in Contemporary Philosophy werd er driftig geacteerd: kluchtigheid ligt op de loer, tot groot vermaak van een deel van het publiek. Maar de onderhuidse spanning – wat is dit, waar zit ik nu tussen, waar gaat dit over – dreigt dan weg te vallen.
Aan al die camera's is te zien: dit was The Making Of. Ik ben razend benieuwd in wat voor filmvorm dit gegoten gaat worden.
* Met noot: de apotheose, de grande finale heb ik gemist.