Net aangekomen in Londen een warm onthaal in East End…
Je moet er maar opkomen, een galerie beginnen middenin de grootste (ideeën-)crisis sinds de jaren 30, in hartje Londen nog wel. Tim, Al, Adam en Luc draaien er hun hand niet voor om (waar een flink portie optimisme wel niet goed voor is…)
T/m 31 oktober a.s.
(een bericht van Erosie)
Dus maar snel naar het oude vertrouwde Soho, wie kent het niet van de schoolreisjes, Piccadilly Circus.
Een paar blokken daarvandaan één straatje achter Carnaby Street bevindt zich de vers geopende Chapter One galerie, inclusief a room with a view.
Alwaar de verse Stefan Marx'en al klaar staan om opgehangen te worden. Ruim 3 uur voor de opening, tussen de Poolse klussers, na zdrowie!
Alles (net) op tijd af, topdrukte op de opening.
Zelfs Michael Swaney hangt recht.
Zo ook Samuel Francois.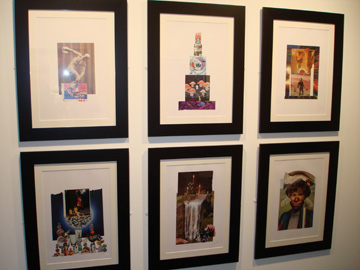 Gratis drank in de propvolle kelder, en zoals de Britten dat doen, netjes in de rij. Wachttijd ongeveer 15 minuten, mind the gap.
Ook in de kelder; Utrecht's finest Merijn Hos.
Naast Mudwig Dans…
..en uw correspondent ter plekke legt het nog één keer uit.
Thank you, come again.
Dus ga binnenkort naast je portie kerst-funshop-therapy ook in Londen even langs bij Chapter One Gallery.