Bubbelwrap televisie. Framerate één (1) per dag.
"Just as a Cathode Ray Tube mixes the three primary colors to create various hues, VSSTV utilizes a plotter-like machine to fill the individual bubbles with one of the three primary CRT colors, turning them into pixels on the VSSTV "screen"."
(Via Rhizome)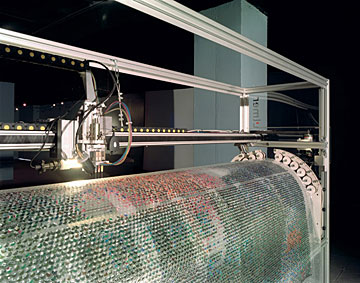 Promotional video (flash)
gebseng.com/02_vsstv/index.shtml
Uit de folder pdf: vsstv_english.pdf
* Zie ook: dia filmprojector van dezelfde maker.