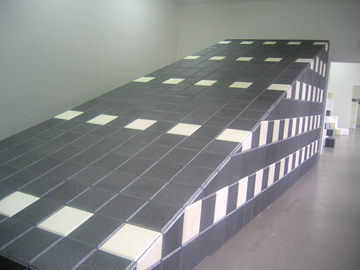 Tommy Støckel
smartprojectspace.net/exhibitions/64.xml (Tommy Støckel)
smartprojectspace.net/exhibitions/65.xml (The State of The L3)
Tactiel Tetris
The State of L3 Pan African Contemporary Arts & Film Collective wordt gevormd door Armin Kane, Antonio Jose Guzman en Felipe Peres Calheiros.
Een kooi…
… en de vogel gevlogen.
Een schip op z'n kop, kapotte patrijspoorten…
… en een videoprojectie binnen.
Zorgvuldig verschikte stukken zeekaart.
Niet te fotograferen
Beide exposities te zien tot 22 Augustus. Overigens, voor lekker eten en zo: SPS's Media-Lab 111.