Naast het tekeningen blog organiseert IDI zo nu en dan presentaties met echte tekeningen in de echte wereld. De eerste tentoonstelling waar IDI aan mee deed was Trendbeheer's The First Virtual Exhibition of Shows tijdens Art Amsterdam 2010. Deze tentoonstelling was in het echt te zien bij De Zwarte Ruyter in Rotterdam, en werd tegelijkertijd tijd live gestreamd in de stand van Trendbeheer op Art Amsterdam.
Voor de tweede presentatie van het IDI ben ik gevraagd door het GBK om een tentoonstelling samen te stellen met kunstenaars van het GBK en uit Den Haag. De ruimte zelf is niet toegankelijk: het werk is alleen vanaf de buitenkant van het gebouw te zien. T/m 27 februari aan het Willemsplein in Arnhem.
Gbk.nl/nieuws/…/gbk_te_gast_willemsplein_3-77
(Een bericht van Erik Jan Ligtvoet)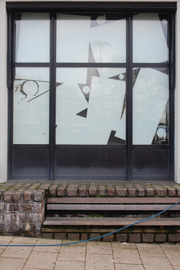 Daniel van der Veer, Ilse Versluijs, Gerard Koek, en Stefanie Scholte.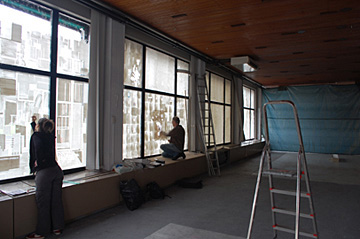 Stefanie Scholte en Rinke Nijburg.
Rinke Nijburg (detail)
Stefanie Scholte en Gerard Koek
Overzicht vanaf het Willemsplein.
Erik Jan Ligtvoet, Manon Bovenkerk, Sibylle Eimermacher en Wenda Kieskamp.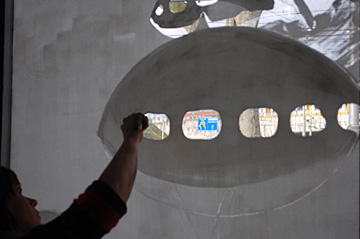 De opening,
inclusief beamerprojectie met 'making of'.
Bij ieder raam zit een QR-code sticker met informatie van iedere kunstenaars website. Wie een smartphone heeft kan met een app deze code lezen en informatie krijgen over de desbetreffende kunstenaar.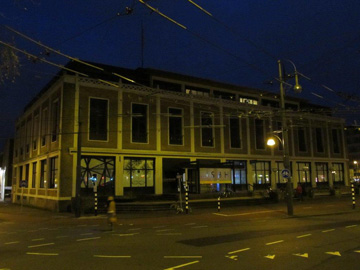 Nog t/m 27 februari te zien aan het Willemplein in Arnhem.