Kids Versions, Adult Things 2010.
Hula-hoops, ramin dowel & fixtures and fittings.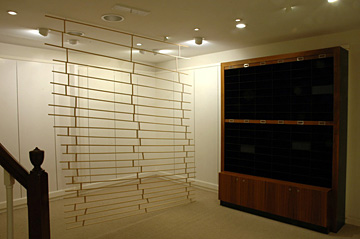 Untitled (Screen) 2011.
12mm dowels, rubber bands and steel hooks.
Dimensions variable.
Blue (Blue/Yellow/Pink/Green) 2010.
Trivial Pursuit wedge holder and coloured wedges, shelf bracket and screws.
26.5 x 3.5 x 19.5 cm
Bad Painted Ceiling 2009.
Black emulsion.
Dimensions variable.