'Politics of Art' is een tentoonstelling, samengesteld uit de eigen collectie van het museum door directrice Anna Kafetsi.
T/m 30 april a.s.
Emst.gr/EN/exhibitions/…&itemslist=
George Hadjimichalis, Stamp Prints.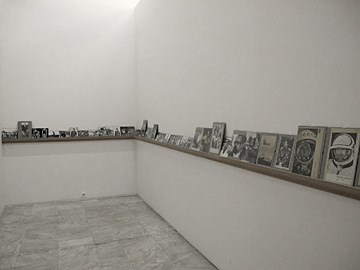 Vangelis Vlahos, Images to influence the reading of Greece's interests in Eastern Europe and the Balkans today. De verzameling beelden komen uit het archief van een nationalistisch Griekse dagblad waar ze gepubliceerd werden tussen 1966 en 1982.
Vanaf 21 mei tot 7 augustus is werk van Vangelis Vlahos te zien bij Witte de With in de tentoonstelling 'The end of Money'.
Yiorgos Harvalias, ENIAC.
Kendell Geers, Akropolis Redux (The Director's Cut).
Emily Jacir, Memorial to 418 Palestinian Villages wich were Destroyed, depopulated and Occupied by Israel in 1948.
Work in progres van Emily Jacir. Palestijnen afkomstig van die dorpen, Israeliërs die in die gebieden zijn opgegroeid en mensen uit verschillende strekken in de wereld zijn bij elkaar gekomen in New York om de vluchtelingentent te borduren.
Andrea Bowers, No Olvidado. De tekening is gemaakt ter nagedachtenis aan al die mensen die overleden tijdens hun poging de Mexicaans-Amerikaanse grens over te steken.
Iets wat van veraf lijkt op drukwerk blijkt van dichtbij een tekening met potlood te zijn!
Carlos Motta, Graffiti Cuts : Who Owns The Street' 2007-2009.
Carlosmotta.com/Ideological.html
Tot 8 mei is werk van Carlos Motta te zien in de tentoonstelling Patria o Libertad! in het Cobra Museum.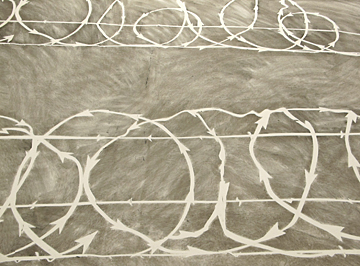 Andrea Bowers heeft in opdracht van het Nationaal Museum van Hedendaagse Kunst in Athene de installatie Ni Una Muerte Mas gemaakt. Ik moest de muur aanraken om te geloven dat dit met houtskool direct op het stukwerk was getekend.
Ieder jaar geeft het Museum 6 Giekse en internationale kunstenaars het opdracht voor een werk dat gepresenteerd wordt in de project room van het museum en gesponsord word door Bombay Sapphire gin.
Op een kleine scherm is een video van 9 minuten te zien waar Enrique Morones vertelt over het ontstaan en het werk van de organisatie Border Angels. Opgericht in 1986 en oorspronkelijk gericht op hulpverlening aan migranten die leven in de ravijnen rondom San Diego en nu meer bezig met het stoppen van de zinloze moorden in de woestijn vlakbij de grenzen van Mexico en de Verenigde Staten.
T/m 30 april a.s.