Groot is goed en veel is lekker op diverse lokaties in de binnenstad van Dublin. Slechts een middag de tijd dus gekozen voor de hoofdlokatie Earlsfort Terrace . Wat een gebouw! Het Atelier als Supermedium in de turbo overdrive, maar liefts 85 solotentoonstellingen in evenzoveel zalen-lokalen-hokjes.
T/m 31 oktober a.s.
Fernando Bryce
Alain Declercq
Dublin Contemporary 2011 curator Jota Castro met Gordon Ryan en Noji.
Liam O'Callaghan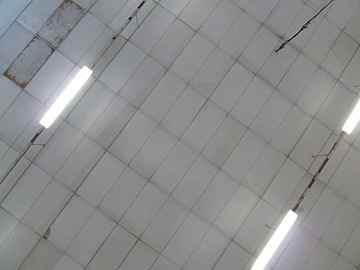 Blik vanaf het bed.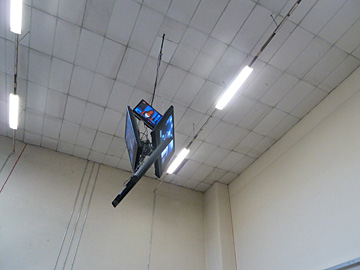 Aluhoedjes galore, Mark Clare.
Niet te fotograferen, wel erg goed. Ruimtevullende teken-installatie van Kysa Johnson.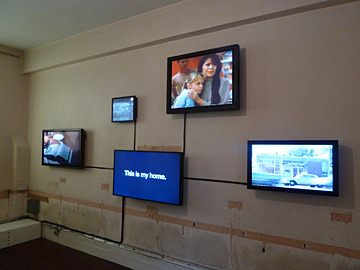 Hoogtepunt: Nina Berman met een aangrijpend portret van de zwaargewonde oorlogveteraan Ty Ziegel in de fotoserie Marine Wedding.
Vooral in combinatie met de als video geprojecteerde serie Homeland.
Kader Attia
David Adamo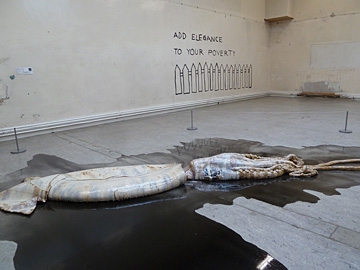 David Zink Yi (vloer) en Monica Bonvicini (muur)
Doug Fishbone laat een video van dik anderhalf uur zien, bij binnenkomst geen idee hoever al onderweg/ hoe lang nog te gaan. Waarom geen program met aanvangstijden of het werk op YouTube gezet zodat men een en ander in de beslotenheid van de eigen computer rustig kan bekijken? Nu loopt men door of gaat uit beleefdheid zitten, heeft geen idee waarover het gaat en staat na een minuutje weer op en loopt weg.
Het internet uitgeprint en getekend/ geschilderd, Alan Butler.
The Bruce High Quality Foundation
En tot slot bij het naar buiten gaan een Mark Jenkins.
T/m 31 oktober a.s.