Nice
Vreemde winkel met dito snuisterijen.
Zoals:
IPOD BLANK
"One more hot collaboration with paraconceptualist Tobi Wong! the iPOD BLANK is a device whose MP3's meta tags have been erased 1 by 1, leaving the product with an empty/frozen/blank screen & newly anonymous tracks! A poetical act playing on the notion of copyright & ownership, the 1st iPOD BLANK was curated by sound sorcerer Michel Gaubert, & designed/erased by item idem + Tobi Wong, as THE WRONG STORE's soundtrack!"
En:
MONDRIANDREA CREWS
Invited to visit the ANDREA CREWS studio, we quickly started prototyping the first sweater of a line between ITEM IDEM & ANDREA CREWS, respecting the exact measurements & colors of an original Pietr Mondrian composition & simply altering one color code with its neon equivalent. Available on request!
En: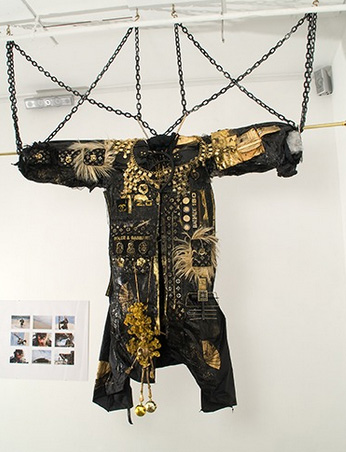 MIDASPHALTARMACOAT 8002
Commissioned in 2008 by AA Bronson for his SCHOOL FOR YOUNG SHAMANS exhibition at the NY gallery John Connelly Presents, item idem flew in the brazilian desert to Jericoacoara, & witch-crafted a gold & black armor with deconstructed LV bags, melted plastic tires, toxic tar & CDG perfume! This photo story is an ode to the artist's myth of origins, here Joseph Beuys, the original shaman!
(* AA Bronson die zojuist nog zijn strapatsen mocht vertonen in/bij/rond Witte de With.)
En:
"item idem collaborates with jeans brand Lee Cooper & creates the first International Klein Blue Jean; a savvy military outfit sourced in the brand's archives from the first half of the XXth century, & dedicated to blue digital compositing and the rise of the XXIth century digital warfare!"
Kopen is hebben dus:
En dan krijg je dit: