Vorige week vond de eerste Frieze New York plaats. Een week met veel openingen, enkele feestjes en drie verschillende beurzen.
Over Frieze New York zijn de meningen erg verdeeld: onder andere over de locatie. De beurs speelde zich af op Randall's Island, een eiland ten hoogte van Harlem en moeilijk te bereiken. Dit werd echter goed opgelost met gratis shuttles in de vorm van een watertaxi of ouderwetse schoolbus.
Daarnaast was niet iedereen te spreken over de enorm grote mooi curvende witte tent ontworpen door SO-IL. Een architectenbureau uit Brooklyn dat is opgezet door de Nederlander Florian Idenburg en zijn vrouw.
Negatieve klanken hoorde en las ik over de grijze houten vloer, die was te simpel. Daarnaast stonk het en de ruimtes waren niet overzichtelijk ingedeeld. Zelf heb ik genoten, vond het erg mooi en ruim van opzet met een overweldigende hoeveelheid daglicht. Het werk was afwisselend en voor een beurs best experimenteel.
Mooie solo shows van Nicholas Hlobo die eerder te zien was in de Arsenale van de Biënnale van Venetië afgelopen jaar.
Erg verrassende installaties in het midden van de tent met onder andere Bad Brains van Samara Golden.
En happenings zoals de broodjes met worst van Rikrit Tirivanija bij Gavin Brown.
Ook Annet Gelink had een mooie presentatie bij Frieze.
Hannah van Bart bij Marianne Boesky.
Geen idee meer van wie bij wie.
Anders Clausen
Olaf Nicolai en Hans Ulrich Obrist in gesprek.
Tony Cragg, Sculpture Park Frieze.
De Frieze was erg dicht op de Armory Show van afgelopen maart, mensen vragen zich af of het de Armory zal overstijgen of dat Frieze juist snel weggeblazen zal worden. Frieze Londen is in korte tijd tot een hoog punt gekomen en eigenlijk heb ik ook alle vertrouwen in deze met kracht, inzicht en perfectie opgezette beurs.
Zoals overal zijn er naast de grote beurs enkele kleinere maar niet minder interessante beurzen te zien. NADA (voor het eerst in New York) en PULSE kozen voor de Frieze in plaats de Armory.
NADA speelde zich af in de DIA building op 22nd street, een locatie die sinds enkele jaren veel voor tijdelijke tentoonstellingen wordt gebruikt.
Bij NADA was ik aangenaam verrast door het werk van Andrew Gilbert bij Ten Haaf Projects. Een kunstenaar die ik voor het eerst zag bij RAW afgelopen februari in Rotterdam.
Het NADA dakterras.
Tinkebell bij Torch.
Bij PULSE had Torch Gallery een indrukwekkende stand en Edwin Meulensteen een enorm op zijn kant gezet beeldscherm met het werk van Siebren Versteeg.
Siebren Versteeg bij Meulensteen.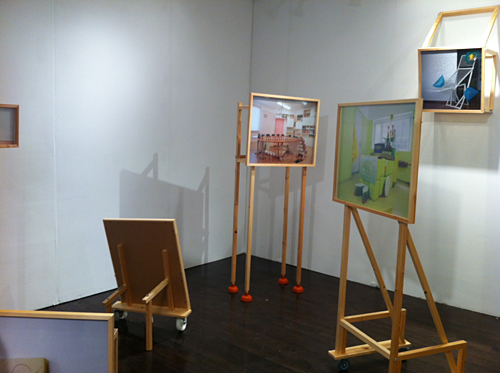 Geen idee meer van wie bij wie.
Daarnaast waren er vele openingen. In Chelsea konden we bijna elke avond genieten van openingen met grote kunstenaars.
Opening van Liam Gillick bij Casey Kaplan Gallery, hier samen met Lawrence Weiner.
Kehinde Wiley bij Sean Kelly Gallery.
En Marianne Boesky die letterlijk de muur eruit heeft gehaald met de aangrenzende Pace Gallery nadat ze onenigheid hebben gehad over een kunstenaar die over werd genomen van de ene door de andere galerie. Een geweldige oplossing voor een veel voorkomend probleem.
In de West Village was een opening van Sturtevant bij Gavin Brown
en de opening van Real/Look was te zien in Soho op Broadway.
Anish Kapoor bij Gladstone.
Atelier van Lieshout bij Family Business Gallery.
Cindy Sherman bij Metro Pictures.
Gilbert and George bij Sonnabend.
Zoals elke goede fair worden er mooie feestjes gehouden.
Een etentje voor genodigden bij Hotel Americano in Chelsea.
En Kraftwerk op een openigsfeest bij PS1 in Long Island City.
Om na alle heftigheid van de kunst in balans te komen hebben Huib Haye van der Werf en ik een heerlijke wandeling gemaakt in Central Park waar we tegen een klasje buitenschilders aanliepen. Met een geweldig mooi uitzicht over de idyllische bootjes schilderden ze een foto na op postzegelformaat!