Rondje Spanje: VIVA Collection on Tour, Museum Matadero, Museum Reina Sofia, Museum Vostell, Galerie Casa Sin Fin, Helga de Alvear collectie en het El Greco museum.
Foto's: Aquil Copier en Joanneke Meester.
Aanleiding voor deze kunst trip was het Viva Collection on Tour Festival in Madrid waar uw gelegenheidscorrespondent voor was uitgenodigd. De Viva collectie is een reizende videocollectie die internationaal in musea wordt getoond. De deelnemende kunstenaars is een prachtig lijstje met een mix van zeer gerenomeerde kunstenaars en aanstormend talent:
(Geïnitieerd door Ana de Alvear en curatoren Macu Morán en Amparo López Corral).
Het Viva – Collections on Tour – festival vond plaats in het Caixa Forum, een prachtig gebouw dat ontworpen is door Herzog & de Meuron.
Ana de Alvear, de initiator van het festival, heet iedereen welkom.
Bjørn Melhus met No Sunshine. Een klassieker!
Ricardo Calero met Inundar el mar.
Pipilotti Rist, Pamela.
Martin Sastre, The Martin Sastre foundation.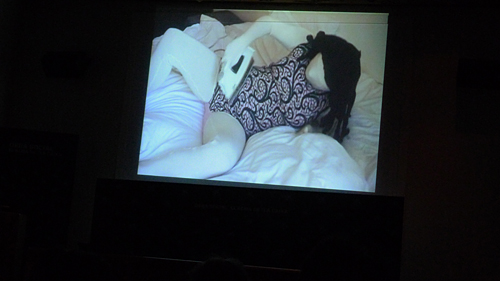 Joanneke Meester, Pregnant.
Nesimi Yetik, My Mother Learns Cinema.
Florian Gwinner met Das Model.
Ana de Alvear met Nunca pasa nada.
Bruce Nauman, Violent Incident.
Isaac Julien met The Attendant.
Rui Calçada Bastos met Same old tune.
Santiago Morilla met Gioco monstruoso.
Douwe Dijkstra met Fragmenten uit Backpacking.
Hans op de Beeck, All together now.
Ruth Gomez, El artista de la vida moderna.
Simone Lecca met Souvenir.
Matadero Madrid, een prachtige tentoonstellingsplek die een beetje deed denken aan het Westergasfabriek terrein in Amsterdam. Er was op dit moment een tentoonstelling met design stuff.
Het welbekende filmpje Logorama van het Franse video collectief H5.
Target Bib van Eric Morel.
Deze 24 meter hoge Verticale Tuin van Patrick Blanc is te vinden naast het Caixa Forum gebouw.
Reina Sofia meegepakt maar hiervan heb ik niet van ieder werk de naam van de kunstenaar, excuses daarvoor!
Gerhard Richter, Green-Blue uit 1993.
Een installatie (Soledad Interrumpida) uit 1971 van de vooruitstrevende kunstenaars Jose Luis Alexanco en Luis de Pablo. Zou ook gisteren gemaakt kunnen zijn.
Wie is de Echte echte?
Een prachtige show met een stuk of 10 films van James Coleman.
Vlakbij het stadje Caceres een enorme Fluxus collectie in het Museo Vostell Malpartida (in samenwerking oa. met Verbeke Foundation).
We mochten hier niet fotograferen, dus uit de heup geschoten.
In deze regio leven heul veul ooievaars, deze prachtbeesten hebben bezit genomen van deze sculptuur en vele kerktorens etc.
In Caceres ontdekten we bij toeval galerie Casa Sin Fin met werk van Marta de Gonzalo y Publio Pérez Prieto, die elkaar op de Gerrit Rietveld Academie hebben ontmoet.
Centro de Artes Visuales Fundacion Helga de Alvear.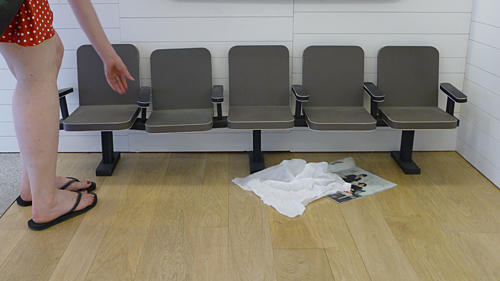 Juan Uslé, Santander, 1954.
Alberto Peral met keramiek installatie Santurce uit 1966.
In Toledo op zoek naar El Greco. Dit schilderij "The burial of thé Count of Orgaz" mocht niet gefotografeerd worden dus ook deze vanuit de heup geschoten, vlak langs mijn oor.
En daarna het El Greco Museum, hier kan je zien hoe deze meester leefde en er zijn een aantal prachtige schilderijen te bewonderen.
Onder andere deze serie apostelen.
Uw correspondent Aquil Copier voor een schilderij van zijn grote held ;-)