Art Basel Miami Beach is de grootste kunstmarkt in Amerika. Kunst van over de hele wereld met een sterke focus op Noord- en Zuid-Amerika. Om het gevoel van koehandel wat weg te halen zijn er als onderdeel van de officiële beurs ook gesprekken, performances, publieke werken en filmvoorstellingen.
Na een aantal jaren verschillende beurzen te bezoeken is de conclusie toch vooral dat er weinig verheffends is aan een beurs; kunstwerken of huishoud artikelen of auto's het maakt allemaal weinig uit, verkopen, verkopen en nog een verkopen is waar het echt over gaat!
Wat cijfers over Art Basel Miami Beach:
73.000 bezoekers (2014)
500.000 square feet
267 galeries
32 landen
4000 werken
verzekerde waarde van de gezamenlijke werken ruim 3 biljoen
eenmaal, andermaal: Kerry James Marshall 850.000 $ (nieuw werk) en in de secondary market Picasso 180 miljoen… waarmee de kunstwereld een totaal andere betekenis geeft aan de woorden gebruikt en/of tweedehands.
Opening performance: Xavier Cha, 47 Canal, supreme ultimate exercise, 2015
Jeppe Hein, Mirror Angle Fragments (3×60°), 2014, Johann König
Alexander Grey
Cheim & Read
David Zwirner
De "Nederlanders": (foto's Robert Kloos)
Rineke Dijkstra – Marian Goodman Gallery
Berend Strik – Jack Tilton Galerie
Leonardo di Caprio & Silvester Stallone met vrouw aan het shoppen
De waterbedden doen het in Miami Beach goed bij Gagosian
Pino in ijsbeeruitvoering
De sloophandelaren hebben ook ontdekt waar anno 2015 het geld te verdienen valt
uuuuummmmmmm? tja ….tijd om wat andere onderdelen van het programma te checken
FILMPROGRAMMERING
Breakdown door Simone Leigh & Liz Magic Laser, vocalist Alicia Hall Moran op het scherm. Het filmprogramma gemaakt door David Gryn is te zien in een buitenbioscoop bij het New World Center. Gratis toegankelijke voor publiek.
Zelf Breakdown zien?
GESPREKKEN
Kunstenaars Trevor Paglen + Jenny Holzer starten het "Miami Beach 2015 talks" programma onderdeel. Iedere dag zijn er gesprekken met kunstenaars, curators, verzamelaars etc. Vrij toegankelijk voor het publiek.
RANDPROGRAMMERING
Naast de officiële Art Basel Miami Beach beurs is er een overweldigende randprogrammering voor "het gewone volk en portemonnee" als Untitled en Pulse naast losse kunst activiteiten "all over town" in musea, galeries, hotels en een keur van pop-ups. Ook hier Nederlanders:
In Untitled Ron Mandos Galerie met werken van kunstenaars Isaac Julien, Inti Hernandez en Kristof Kintera.
Inti Hernandez, Ron Mandos, Isaac Julien, e.a.
In Pulse Louke Keijzer LMAK Galerie met werken van kunstenaars Matthew Abbott, Jasmina Cibic, Popel Coumou, Carlos Rigau en Nynke Koster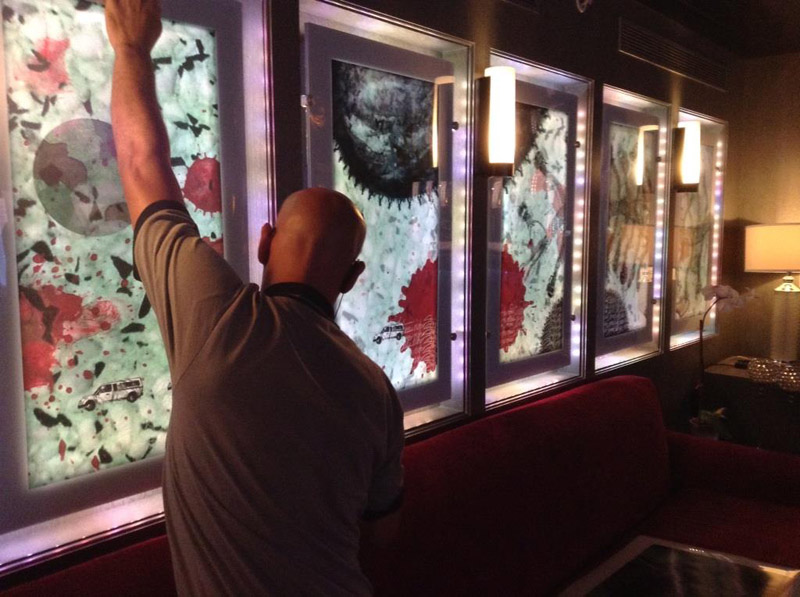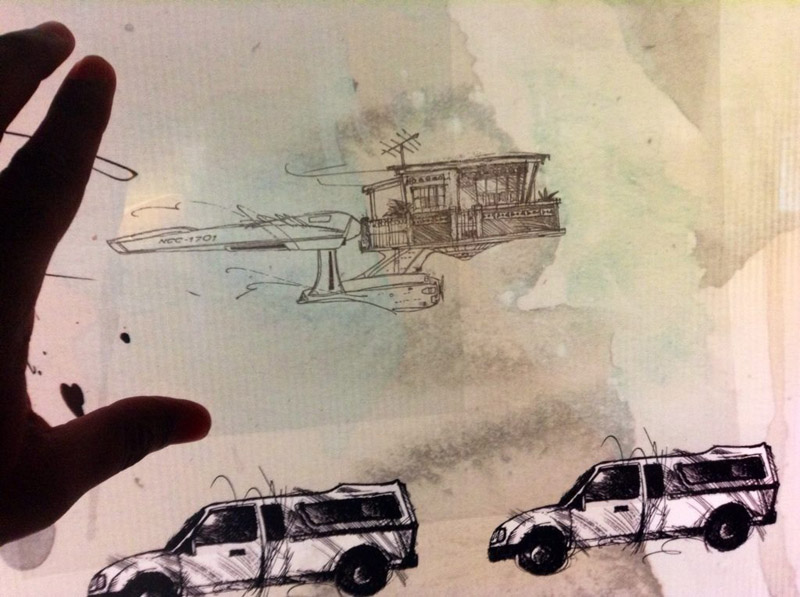 Prins Claus Fonds Laureate: Christopher Cozier in The Besty Hotel, Miami Beach
Bij het Perez Art Museum Miami (PAMM): "Dimensions" een interdisciplinaire performance door de huidige "Researchers in Residence": Devonté Hynes en Ryan McNamara (Photo: Kelly Taub / BFANYC)
Amerikaanse actualiteit:
R. Luke DuBois – Take a Bullet for This City, 2014 op Miami Project Fair (foto: N. Alexander) boven & Sanford Biggers – BAM, 2015, video (onder)
Amerikaanse werkelijkheid:
Foto: Rudy Perez, courtesy the Miami Herald.
Tot grote schrik van menig bezoeker was er een steekpartij. Het duurde even voor politie en ambulance aanwezig waren omdat men gegeven de context van de beurs dacht dat het een performance was. De 24 jarig vrouw die het slachtoffer stak omdat ze tegen haar aan gelopen was en het idee had dat het slachtoffer haar volgde op de beurs werd gearresteerd en het slachtoffer nu in het ziekenhuis, is ok.
(Foto's met dank aan: Art Basel)