Het kunstwerk van het jaar zag ik bij Studio Omstand in Arnhem, deze jaloersmakend mooie Marten Hendriks: "Bewegende fotografie zonder camera, beelddrager en chemicaliën. Niet te documenteren, dit moet u in levende lijve zien." En ervaren. Vooral wanneer u er min of meer per toeval tegenaan loopt is het overweldigend.
Trendbeheer.com/2016/08/26/museum-arnhem-plaatsmaken-omstand/#Hendriks
Kunstwerk van het jaar 2: The Plot to Put Conceptual Art on 'Melrose Place.' Yes, Really.
"Twenty years ago, the conceptual artist Mel Chin cold-called the offices of "Melrose Place," Aaron Spelling's wildly popular prime-time soap opera, with a proposition. What if a task force of artists supplied free artworks and props for the show's apartment-complex set, with coded cultural messages on pressing topics like reproductive rights, American foreign policy, alcoholism and sexual politics?"
"[…] This was the beginning of a conceptual artist's dream, an ongoing intervention into the very heart of American mass culture. In late 1995, Mr. Chin and a team of 100 mostly unknown artists, called the Gala Committee, began a two-year experiment, placing objects on the set of "Melrose Place.""
Al wat ouder, jaren 90, maar ik had er nog niet van gehoord. Van 1995 tot 1997 ging Mel Chin aan de haal met het publieksbereik van Melrose Place.
Nytimes.com/2016/09/29/arts/design/the-plot-to-put-conceptual-art-on-melrose-place-yes-really.html?_r=0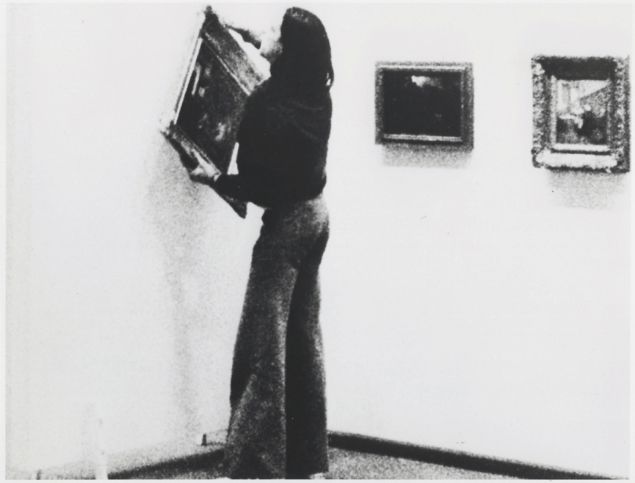 Kunstwerk van het jaar 3: Ulay Remembers the Crime of a Lifetime 40 Years Later
"Heart thundering, the slender man spun and dashed to The Poor Poet, clipped the wire on which it hung with his pliers, ripped it off the wall, and ran. He passed through the climate barrier as the alarm blared. He flew up the stairs, through the foyer, wove around the crowd of people clogging the entrance as they waited to get in, crashed through the emergency exit, the painting under his arm, and sprinted to the car."
Nog een verhaal dat ik afgelopen jaar voor het eerst las, als een jongensboek zo spannend. Ulay vertelt over die keer dat hij het schilderij The Poor Poet van Carl Spitzweg wegsnaaide uit de Neue Nationalgalerie in Berlijn en het dezelfde dag weer terug gaf.
Observer.com/2016/10/ulay-remembers-the-crime-of-a-lifetime-40-years-later/
Museumshow van het jaar: Avery Singer in het Stedelijk Museum
"Gecomponeerd in 3D software en vervolgens levensgroot geschilderd op doek. Platter dan plat en razend strak ge-airbrushed lijkt het eerder computerprint dan schilderij. Snoepgoed voor de ogen in vijftig tinten grijs."
Trendbeheer.com/2016/07/19/avery-singer-stedelijk-museum/
Galerieshow: Constant Dullaart bij Upstream in Amsterdam
"Zo waanzinnig goed, Dullaart aan de haal met de deep learning netwerken van Google en consorten. Momenteel worden er bakken met geld geïnvesteerd om computers voorwerpen, personen en gedrag te leren herkennen. […] Dullaart gaf instructies. Maak een bloem, een gesprek, een koelkast. De plaatjes stuurde hij op richting China waar ze in een schilderfabriek tot schilderij werden gemaakt en per post werden opgestuurd naar Amsterdam. In Amsterdam is er in een autospuiterij een glimmende laklaag opgezet en nu hangen ze bij Upstream. De Machine learned, man made paintings."
Trendbeheer.com/2016/11/25/constant-dullaart-upstream/
Tentoonstelling in een kunstenaarsinitiatief: Marten Hendriks bij Studio Omstand in Arnhem.
"[…] een tentoonstelling die zich sinds ik hem bijna anderhalve maand geleden bezocht behoorlijk in mijn hoofd is gaan nestelen. Een groot overzicht van Marten Hendriks, in vier delen opgebouwd, met werk van de jaren 70 tot nu. Buitengewoon scherp geïnstalleerd door Hendriks zelf bij het nieuwe kunstenaarsinitiatief Studio Omstand (wat een plek!) met hulp van Omstand initiator Rob Groot Zevert (die u wellicht nog kent als een van de gangmakers achter G.A.N.G.). Kunstenaarscuratoren, daar heeft u wat aan."
Trendbeheer.com/2016/08/26/museum-arnhem-plaatsmaken-omstand/#Hendriks
Boek: Days of Destruction, Days of Revolt
Journalistiek in tekening en geschreven woord, Chris Hedges en Joe Sacco bezochten gebieden in Amerika die geheel zijn uitgeleverd aan de grillen van bedrijfsleven en politiek. Deprimerend is een understatement. Een waslijst aan armoede, uitbuiting, ziekte, vervuiling en verslaving; politici en zakenlui staan erbij en trekken de boel helemaal leeg.
Tourshirt van het jaar: Het Unnoticed Art Festival, voor kunst die u niet ziet, kwam in het kader van de fondsenwerving met een gezeefdrukt shirt dat niemand opvalt maar dat de drager bij het aandoen elke keer weer een glimlach bezorgt. Zo was u er toch een beetje bij.
Lied van het jaar: 25 januari voor het eerst gehoord en daarna zes maanden niet meer uit mijn hoofd te branden. Kende u 'm nog niet dan heeft u voor vanavond alvast een meezinger in uw hoofd.
Al uw kerst- en oliebollenkilo's fiets u er het komende jaar vanaf tussen Loppersum en Slochteren.
Proost & tot volgend jaar!
Niels.