Ondertussen is Anouk Griffioen alweer een paar weken bezig op de Erasmus Universiteit. Nieuw werk maar ook delen van het kolossale Museum of Nature en Navigating the Imaginary.
Wie van buiten de universiteit komt is er wellicht nog nooit geweest. De architectuur is bruut en indrukwekkend, groots. Kennisfabrieken aan de rand van de stad geparkeerd, met de Erasmus Gallery in het grijs kistbeton van het Erasmus-gebouw alleen al vanwege de monumentale betongrandeur een bezoek waard.
Ziet u wel – met rechts naast de toegangsdeur een fraaie Rinus van de Velde.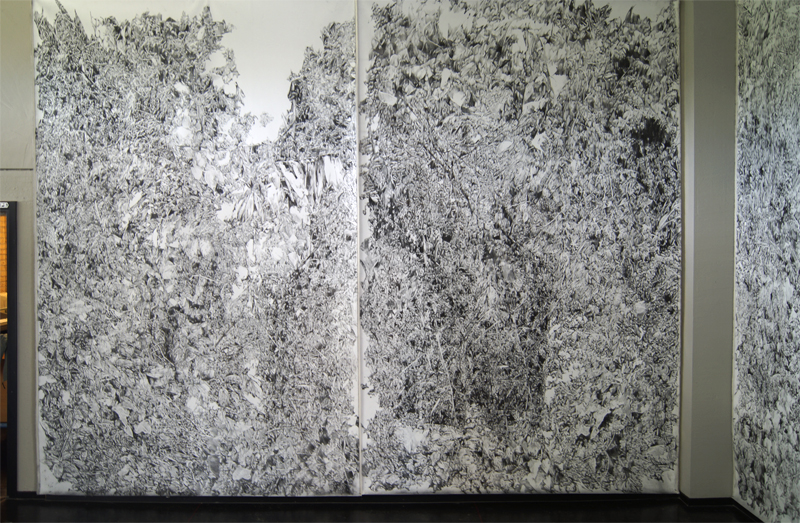 Anouk's tekeningen – in ieder geval het leeuwendeel van het werk op deze tentoonstelling – zijn zo groot dat je er in verdwijnt. Overigens altijd met en in menselijke maat.
Drie van de twaalf panelen Museum of Nature 245 x 315 cm elk. Alles in (h)eerlijk houtskool, nijver handwerk.
Navigating cut up – nieuw werk in wording.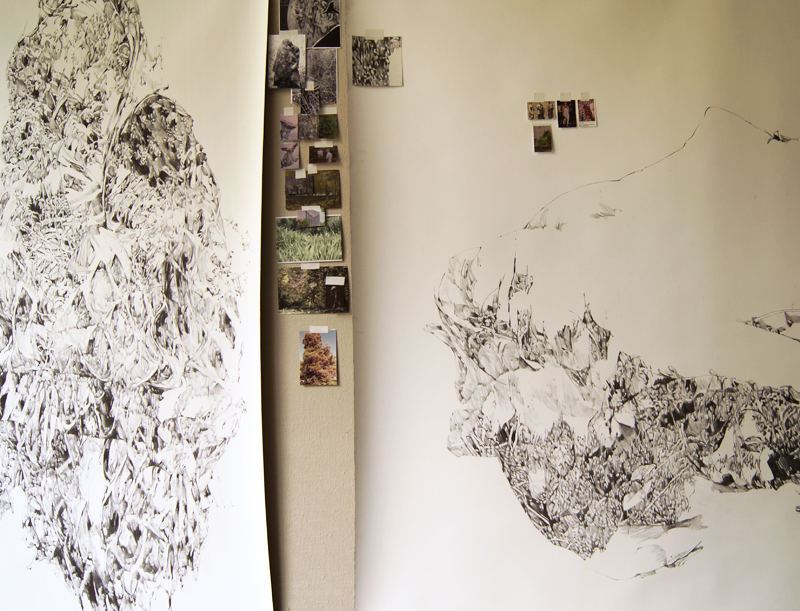 Gelijk deze in progress.
Artist at work.
Anouk Griffioen – Natur is nog te zien tot vrijdag 17 augustus. Met dinsdag 10 juli klein feestje hapje drankje gezellig vanaf 16:30. De donderdagen is Anouk op lokatie aan het werk.