Man man man man, het was me het jaartje wel weer, 2018…
Geen berg te hoog,
Geen dal te diep,
Geen kunst te gek,
Geen tentoonstelling te donker.
Hier een lijstje highlights uit mijn sleepnet en een beter 2019!
(Kevin van Braak @ Tent Rotterdam)
de ontdekking van het Arnhemse en haar wederopbouwwijk Presikhaaf als speeltuin.
(item-influenza pingpong@ Mandelabrug IV)
(item-influenza pingpong@ Mandelabrug V)
(item-influenza pingpong@ Mandelabrug VI)
"For the protection of cultural property and goods in times of armed conflict" DIY-beschermtegeltje op buitengevel. Marcel BioP @ Motel Spatie
Florian Cramer @ Motel Spatie / Parasite van Marc van Elburg
Philippe van Wolputte @ Keteleer Antwerpen
en daarna in de achtertuin van wederom Motel Spatie met een verstopte permanente installatie
Nieuwe aanwinst voor de buitenruimte: de ongebreidelde energie van Kenneth Naamlooss
en meer en meer. lastplak eindelijk weggeschilderd..
verder in de reeks frisse ontdekkingen van de straat: Frederik Lizen (tot nu toe louter in Belgie op pad, maar let op)
Olivier Scheffer als Wildsnoeier.
Maurice Meewisse in beton en meer.
het kilometer-schilderfeest voor iedereen van Paco Dalmau, van Vlaardingen tot Schiedam
Wilfried Hou Je Bek, vertellend over zijn spel-theorie losgelaten op de graffitikrachten achter bovenvermeldde Mandelabrug (@Walter books)
Berndnaut Smilde @ Collectie De Groen
Berndnaut Smilde @ Collectie Post
Jonas Staal had een ijzersterk project over Steve Bannon.
mijn eigen spullen waren natuurlijk ook een groot feest bij Harlan Levey Projects.
een mooi vuil (door verplaatsing) gipsblokje van Michel François uit verzameling van Ronald Ophuis (@Garage Rotterdam)
Meer nieuw vers en fruiting: Willem de Haan (@de Player)
(Aldo)
Nieuw buitending van Jeroen Erosie in de groene schaduw van Presikhaaf
Adam Kraft (videoprojecties @Motel Spatie). Hierbij supergoede video ook van Libia Castro en Ólafur Ólafsson
Perinthia van mijzelf met Pilvi Takala @ Het Bos
Dries Depoorter (Face detected) @ Het Bos
en totslot na een laatste bloemetje van het jaar de tentoon Boijmans in de oorlog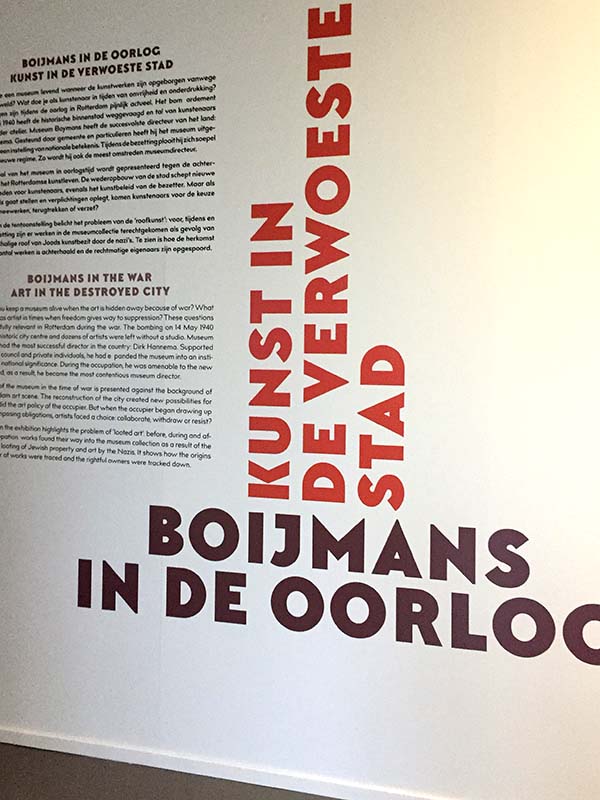 interessante expo over stinkende rol van het Rotterdamse museum rond de oorlog en de de kunst van Rotterdammers in die tijd.
De Verwoesting (1945-1950) van Dolf Henkes
Wally Elenbaas (graffiti 1942, Rotterdam)
(kroeg uit 1942 in de Witte de Withstraat met dezelfde naam. Het kan haast geen toeval zijn..)
2018… poeh!
*nog een nagezonden ontdekking van vandaag die ik u niet wilde onthouden. Bij gebrek aan beweging vanuit het officiële circuit is het blijkbaar aan de actieve burgerij zelf hedendaags commentaar als laag toe te voegen: