CBK directeur Kathrin Ginsberg heet welkom, Petra van Noort hoort toe.
Rondje Middelburg gisteren. Daar opende Vlammenstad, het eindresultaat van 6 weken zomeratelier waar 6 kunstenaars elk een week de tentoonstellingsruimte van het CBK Middelburg tot hun beschikking kregen om een nieuw werk te realiseren. Uitgangspunten dit jaar waren het vergeten bombardement op Middelburg van 17 mei 1940 en het toneelstuk Vlammenstad dat Theaterproductiehuis Zeelandia erover heeft gemaakt.
Met werk van Coen Vunderink, Petra van Noort, Morcky, Maarten Overdijk, Trinette Ledelay en Sela©.
T/m 17 september a.s.
CbkZeeland.nl/index.cfm?art_id=403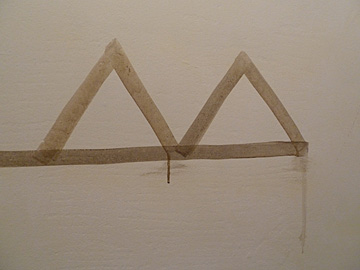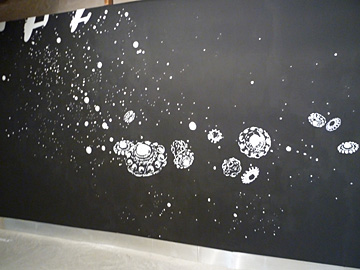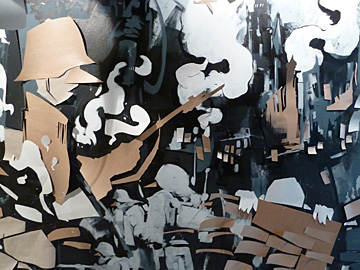 Daarna door naar Psychosculptures in de Vleeshal met werk van Christoph Weber, David Adamo, Gert Robijns, Kevin van Braak, Mandla Reuter, Paolo Chiasera en Rossella Biscotti.
Nog t/m 12 september a.s.
David Adamo, Untitled (Music for Strings), 2008.
Mandla Reuter, Fountain (water uit de Trevi fontein), 2010.
Gert Robijns, Onverschillig-indifferent, 2008-2010.
Christoph Weber, Untitled (Baseline), 2009.
En tot slot in de Kabinetten van de Vleeshal Published by: castillo/corrales The Social Life of the Book. Een zaal met publicaties samengebracht rond het Parijse castillo/corrales waarbij onderstaande pagina George Kuchar er nog het meest uitsprong.
T/m 12 september a.s.