Ga vandaag! Stapels boeken: al bladerend verrukt, verrast, door sappige, enerverende, experimentele, buitengewone inhoud en vorm. Heel fijn!
T/m 19 september.
WdW-morality.nl/?artID=1283870553
Piepkleine selectie boeken en een blik op de discussie van 14 september te WdW hieronder.
Disussie 1 oa Antonia Hirsch and Jeff Khonsary, Fillip, Berlin/Vancouver (zeer fraaie Manders).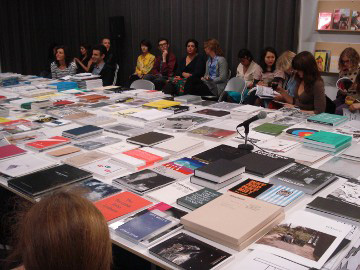 Boy Vereecken (oa Slavs & Tartars)
Freek Lomme, Onomatopee, Eindhoven.
Krist Gruijthuijsen, Kunstverein Amsterdam, geen geld geen boek.
Volatile Dispersal — Speed and Reading door The Happy Hipocrite , for and about experimental art writing.
Activism doubt door Jonas Staal en Harmen de Hoop.
Rotterdam Weg door Carme Nogueira.
As long as it lasts door Simon and Tom Bloor.
Zero Sum Gain, Ulrik Heltoft, Moosje Goosen, Miljohn Ruperto (vers, signed and numbered).
Master without class Marc Bijl, directeur Freek Lomme, freelancer Ingrid Commandeur, kunstenaar Karin Arink aan de wijn.
Een beetje MOTTO was te ervaren bij WildeBoekenMarkt @ Het Wilde Weten.