Johnny Marr formed The Smiths in 1982 (Link)
Honderden rugzakjes (vroeger kort voor studentjes en andere hulpbehoevenden) in de smaak lelijk en spuuglelijk. Of nee, die van Abner oogt wel kek. Die van Marc is heel origineel.
Kunstenaars van naam!
Koop eens een tasje. De opbrengst gaat naar Designers Against AIDS.
"Abner Preis […] received several prestigious artist residencies "
artiststudio.eastpak.com/artist/abner-preis
"Along with Jeroen Jongeleen, Marc Bijl is one of the godfathers of street art. No lie and no further introduction needed. "
artiststudio.eastpak.com/artist/marc-bijil
"Nare Eloyan is one of the Netherlands' most talented drawers. If you ask people in the know, her bag is definitely worth bidding on! […] Nare exhibited in the Hague's Municipal Museum, followed by a procession of awards and exhibitions."
artiststudio.eastpak.com/artist/nare-eloyan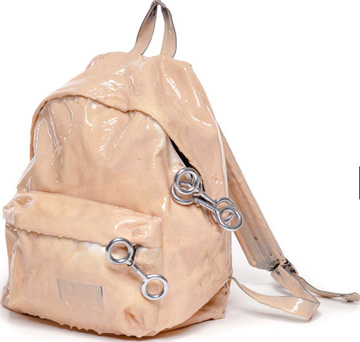 "Thanks to Hutten the Dutch are known for their own way of thinking and critical attitude towards the concept of status. "
artiststudio.eastpak.com/artist/richard-hutten
"TIEFSCHWARZ (deep black) is the most timeless of hues: it has style, depth, intrigue and above all staying power. "
artiststudio.eastpak.com/artist/tiefschwarz
De tassen waren te zien op de RAW Artfair.
"Designers Against AIDS is an initiative born out of your organization Beauty Without Irony."
Kopen/bieden vanaf maandag 19 maart 2012 om 0:00.