Doosje op wieletjes door John Beech
In de categorie 'zo kan ik het ook' of om elke andere reden dan ook, hierbij een snelle fotogroet uit Basel. Beetje Liste, beetje Statements, beetje kunstbeurs / of wat Angelina Jolie allemaal in ieder geval niet kado krijgt:
Hippe vieze handdoek door Paul Lee
Dean Hughes' gebogen nietjes
Blauw ding alsof het een tshirt is, Aleana Egan
Leuke dingen als puzzel in foto en installatie met een busje grijs en dan weer als foto van neerlands Peggy Franck
Renée Levi (I have never been to Japan, 2004), exta groot
In de categorie zo kan ik het ook, een actiefoto van de vieze vlekken op doek door inderdaad ondergetekende zelf,
Met een heuse Iris van D. aan het einder zoals boven vernoemd
Zoefff
Stephanie Cherpin: compositie VI, (ik kan er een nummertje naast zitten) gaffer op aluminiumfolie, 2008
Garrett Phelan
Nw zealands' finest Dane Mitchell met een juweeltje, (leuk ook voor de volgende die volgend jaar stand A17 in de art-statements mag gebruiken)
Van hippe galleries gejatte spullen bij de Christine Köng galerie uit Wenen. ('verzamelaar' onbekend, maar toch geinig om u niet te onthouden)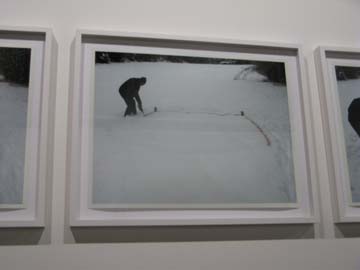 Roman Signer, 2008 (had Jan Dibbets ook nog maar van die humor op z'n ouwe dag in z'n werk)
Nog es een nieuwe ouwe twist-fiti bij Deitch
Toffe kartonnen doos door Jürgen Drescher, van gegoten aluminium. lekker makkelijk, lekker duur.
Carla Klein met de knikkers van R. Gander
Vip exit, 2008
>>
de vriendelijke groeten uit