Een fragment NFO XPO en Shelter Corps zoals dit weekend gezien tijden Version 09 in Chicago.
Johanna Wawro
Laura Elayne Miller
Jeriah Robert Hildwine, You'll Grow Into It 1, 2008
Veel voor weinig, een project van Hui-min Tsen.
Ondertussen is Cal druk in de weer in zijn Calzone Zone.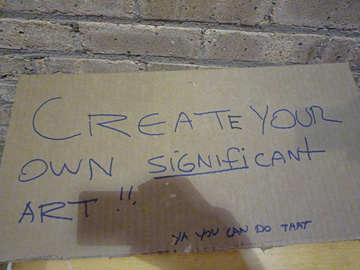 Dave the Lightbulb Man in gesprek met.
Stephanie Burke, Untitled #5 (from Excuisite corpse), 2007.
Stephanie Burke, Untitled #4 (from Excuisite corpse), 2007.
Rachael Marszewski doet Finlands leren in 24 uur.
Het Institute of Socioæsthetic Research van Daniel Mellis pakt uit.
Onder andere met geld omzetten in een boek met copyright.
Een papieren zak als privéruimte.
En een bureau om van uw nationaliteit af te komen.
In ruil voor $ 20 maakt Daniel Mellis ter plekke uw kunstboek.
Voorbind geslacht, inclusief teelbal danwel borstkanker, bij Green Lantern.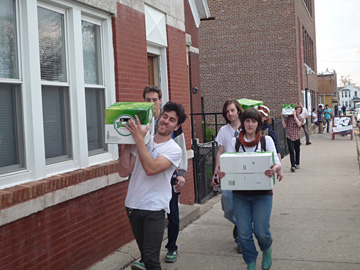 Ondertussen schildert Michael Genovese in de Co-Prosperity Sphere een nieuwe meesterwerkje in elkaar en legt en passant uit.