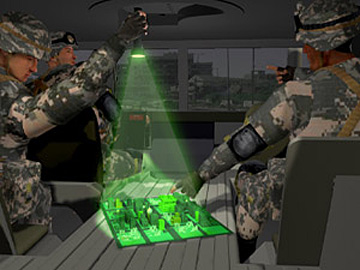 Inside the Humvee at night (TomTom kan wel inpakken)
1-meter Alpha Prototype with simulated volume image (De broertjes Janssen buigen zich over de vraag: hoe krijgen we dit in een iPhone?
Beam eens een 3D kaart onderweg.
zebraimaging.com/html/government.html
En denk eens aan de mogelijkheden voor games als Supermario Warfare Risk TM!
(Via Bldgblog)