"MadeIn werd begin 2009 in Shanghai opgericht met als doel het stimuleren van de creatie, ondersteuning en verspreiding van hedendaagse kunst. Stichter van het collectief is Xu Zhen (1977, Sjanghai), één van de belangrijkste conceptuele kunstenaars die sinds de jaren 90 actief is in het sterk evoluerende hedendaagse China."
Nog te bezoeken t/m 14 maart 2010.
smak.be/tentoonstelling.php?la=nl&y=&tid=&t=&id=449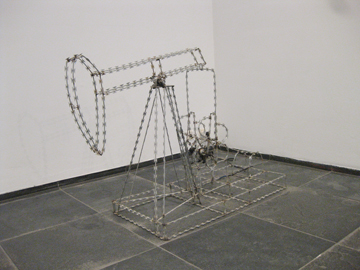 'Perpetual motion machine' (2009)
'Ruins' (2009)
"De titel van deze tentoonstelling Seeing One's Own Eyes komt uit de Koran en is een oproep tot kritische beschouwing van wat de wereld ons tracht op te dringen".
'Spread' (2009)
'The color of heaven' (2009)
Titel onbekend
"Xu Zhen hanteert een groots opgezette 'undergroundstrategie' om tot een project te komen dat zowel het clichématige verwachtingspatroon van het hedendaagse kunstcircuit doorbreekt, als de blik op het Midden Oosten en China ontwricht."
'Hey, are you ready?' (2009)
"MadeIn wil niet zomaar een vinger wijzen naar maatschappelijke of politieke wantoestanden. Het reflecteert ook over het mechanisme van de globale, hedendaagse kunstscène. 'Seeing One's Own Eyes' verbeeldt de paradox van het 'kijken' naar andere culturen maar hekelt evengoed de krampachtige zoektocht naar oorspronkelijkheid".
'Indivisible reality comes from uncertain needs in our mind (2009)'
Nog te bezoeken t/m 14 maart 2010.