Opnieuw een opmerkelijke solo bij Gallery Joey Ramone aan de Josephstraat in Rotterdam. Diametraal tegengesteld aan de uitgeprinte en gebeamde virtualia van Leegte vorige maand nu huisvlijt met gevonden voorwerpen, potloodtekeneningen en vreemde bouwsels van de Israelische kunstenaar Roi Alter, Sandberg Graduate.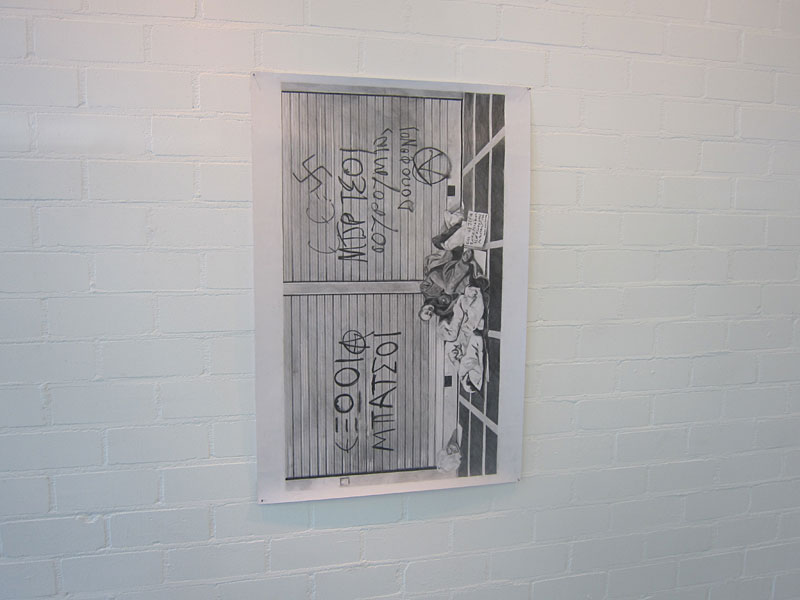 Certificate, Potlood op papier 2011
Fly Emirates, 2013
Shock Echelons (Two Walls) 2013
Office scene, 2013
Shock Echelons (Hospital ship) 2013
Raft of the Medusa/You are here, 2009 […]
Plan B, 2013
Mooi en slim geinstalleerde puike minisolo. Het werk is nogal van deze tijd maar staat als een huis. Ik kan het niet goed duiden en kan ook niet uitleggen waarom maar de eerste indruk bij deze kennismaking maakt dat ik benieuwd ben naar het vervolg. Te gek geheel / gaat dat zien.
Joey Ramone is een leuke aanwinst voor het Rotterdamse circuit. Niks alle seinen veilig, lekker risico nemen. Pakt dit keer (weer) heel goed uit.
Onderdeel van Language & Art Gallery Tour van Poetry (huh?) en nog te zien tot 6 juli.