Sinds vrijdag bij Showroom MAMA in Rotterdam, For Security Reasons, over een speelse omgang met de regels en het toezicht op de publieke ruimte.
Met werk van Stylianos Schicho, Jeroen Jongeleen, SpY, Harmen de Hoop, Antoine Schmitt, Desiree Palmen, Fabian Bechtle & Stefan Reuter en Sander Veenhof.
T/m 18 oktober a.s.
ShowroomMAMA.nl/projects/forsecurityreasons09.cfm
Jeroen Jongeleen, The climbing of building, fences and other opportunities, 2009.
Stylianos Schicho, Gamblers, 2009.
Desiree Palmen, Street wise, 2002.
De toegangspoort als startpunt van het eenrichtingsverkeer. In de achtergrond Harmen de Hoop.
Een goed geplaatste haaientand is goud waard.
Harmen de Hoop, Sandbox, 1996.
De Jeroen Jongeleen merchandise hoek.
Hete Bliksem Augusta vraagt zich of of ze langer is dan eerder genoemde Jongeleen.
Bijna!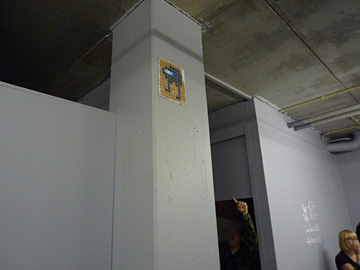 Een restje Space Invader (zie ook Space-invaders Rotterdam).
Kunsttransport per luxe schommel.
En hup!