Gillick systeem plafond.
Het was even rennen in het Museum of Contemporary Art van Chicago. Liam Gillick curateert zijn eigen feestje, Italianen van 1968 t/m 2008, Quimby's avond, Sol LeWitt klassieker, pracht van een museumboekwinkel plus het smerigste museumvoer dat uw correspondentieteam ooit at.
Liam viert feest deel 1: The one hundred and sixty-third floor: Liam Gillick Curates the Collection.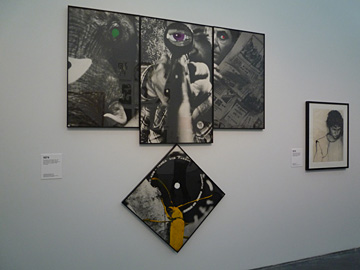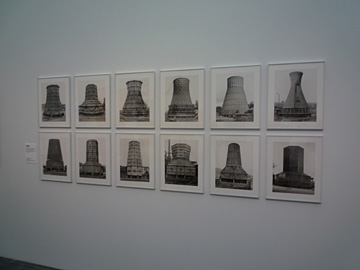 Liam viert feest deel 2: Artists in Depth: Liam Gillick, Jenny Holzer, Donald Judd, Sol LeWitt.
Liam viert feest deel 3: Liam Gillick: Three perspectives and a short scenario.
Fraaie binnenkomer bij 40 jaar Italië, Catalan in marmer. Het verplichte security meisje maakt het af.
MCAchicago.org/exhibitions/exh_detail.php?id=192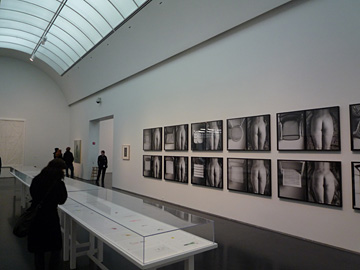 Andrea Salvino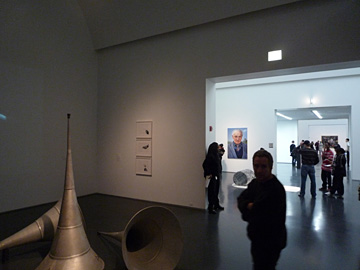 Sol LeWitt, Wall Drawing No. 311: Square, Circle, and Triangle on Red, Yellow and Blue, 1978.
In het kader van de dinsdagavond programmering was het deze keer de beurt aan boekhandel Quimby's. Anderhalf uur aan korte lezingen en performances.
Dystopias vs. Enchanted Forests
Edmar Marszewski Ruben draagt voor en zingt twee gayties klassiekers met zijn band.
Een lezingenprogramma in een museumrestauratie nodigt uit tot eten maar doet u dat vooral niet. Na afloop naar de bar van moeder Marszewski om de mond te spoelen.