Poes doet miauw bij showroom MAMA. Onderdeel van een verse collectie Marc Bijl?
Maar eerst:
Tentoon The Relic Sideshow van Sander van Bussel in Cinerama in het kader van image-festival.
home.tiscali.nl/sanderv[…]inas/Relic_Sideshow.html
High 'C' Travel cocaine case, oftewel: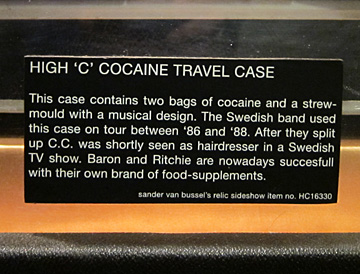 Etc.
Image-festival alleen nog vandaag (za 30 oktober), ondermeer met masterclass van Kyle Balda, Pixar Studios in Cinerama.
Ondertussen in de Kunsthal:
Niels Post bereidt voor – onderdeel van een Worm/Image-festival performance gig met Abner Preis en anderen.
In het Wilde Weten een niet te fotograferen totaalinstallatie van Noriko Mitsuhashi and Sato Endo – Rehearsing of a Nest, een rijstpapierendoolhof met vilten schuilplaats.
Nog tot zondag, met zaterdagmiddag 30 oktober 15:00 uur performance:
"The presentation is an open rehearsal and takes place from 15:00 till 16:00. The audience can walk in and out as they want, and it is welcomed to tell impressions to the maker after the rehearsal."
hetwildeweten.nl/2010/rehearsing-of-a-nest/
Showroom MAMA:
2208 (Or How I Missed the End of the World), Marc Bijl, Veniamin Kazachenko, Jeffrey Vallance en Roland Groenenboom en Gerben Willers. Drie kunstenaars, twee koeratoren.
showroommama.nl/projects/2208.cfm
Jeffrey Vallance, Blinky the Friendly Hen
Keivers schilderwerk van Veniamin Kazachenko.
Smile you are on trendbeheer. Marc Bijl ingeflitst.
Vers bier haal je hier.
"Een vogel?"
Een vogel! De beroemde Zwarte Kip, nu ook in volkseditie.
Het werd nog laat en gezellig.
2208 (Or How I Missed the End of the World) nog tot 24 december.