Laatste dagen van deze publiekskneiter in Eye, nog tot 30 augustus.
eyefilm.nl/exposities/william-kentridge-if-we-ever-get-to-heaven
Hoogtepunt is de grootse en grote liniaire vertelling bij binnenkomst, More Sweetly Play the Dance, 45 meter een muzikale processie. Charmant en gedragen. Opvallend genoeg bij een artistieke screening bekijkt nagenoeg iedereen de hele loop.
Groot en rommelig vult een veeltal simultane projecties de achterzaal. Acht schermen I Am Not Me, the Horse Is Not Mine uit 2008, gebaseerd op het korte verhaal De neus van Gogol. Ik kwam er niet echt in. Misschien sterker in een minder grote ruimte, meer op elkaar. Zo wijds voelt het wat verbrokkeld. Je kunt elke film op zich bekijken.
In de laatste zaal klassiek film. Other Faces, een geprojecteerde tekening. Gratis associatie mijnerzijds een "gemaakt door de studenten van de HKU" twee-voor-twaalf" gevoel.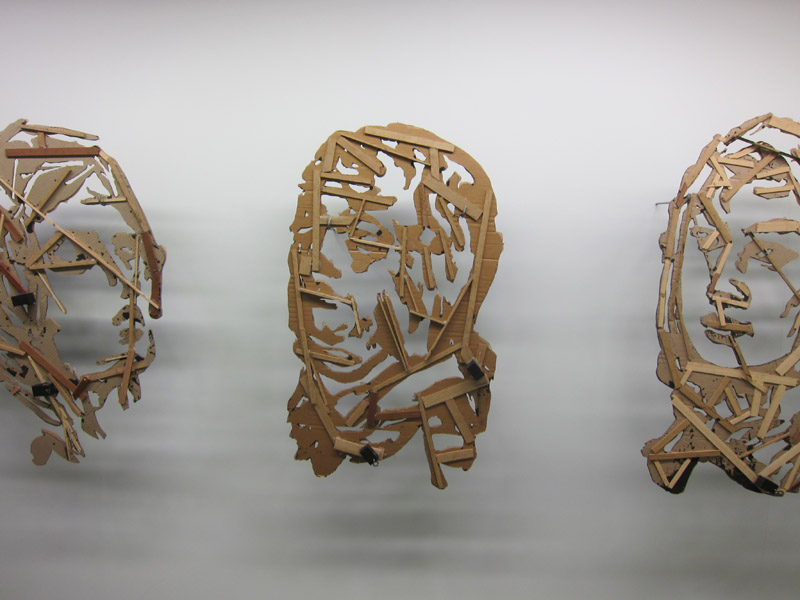 En in de eerste zaal wat van de gebruikte objecten.
Overdonderend vond ik de installatie in het Van Abbe (of de Documenta). Eens temeer door de invullende machinerie, de objecten, het totaaltheater daar. Dat mis ik hier, hier zijn het de screenings die de installatie maken. Eigenlijk film in het filmmuseum.
Laatste dagen:
eyefilm.nl/exposities/william-kentridge-if-we-ever-get-to-heaven