Jaehun Park, Captured Nature, 3D Simulation, 3840x2160px, Seamless Loop, 2:20 min., no sound, 2021
Nog onwennig ga ik vandaag, like it's 2019, niet naar 1 maar 2 openingen. Vergeet het reserveren van een tijdslot gewoon weer op de boemel de fooi. Niets te mondkapjes, afstand houden van elkaar, en iedereen als vanouds zippend aan glaasjes wijn of andere alcohol.
JAEHUN PARK: Ritual for the Night solo (Bradwolff Projects)
Park gebruikt in zijn praktijk 3D-computer gegenereerde beelden en simulaties met als overkoepelend thema geopolitiek en de vernietigende menselijke impact op de wereld. Eerder schreef ik al over werken te zien eerder dit jaar in het Plein Theater die gingen over kapitalisme. Hier bij Bradwolff zien we poëtische gestileerde conceptuele video beelden over klimaat, de natuur en de polarisatie en conflicten tussen oost en west. Als kijker van kunst draagt mijn ervaring met het werk bij aan de betekenis van een werk. Het ontbreken van mensen in de werken van Park maakt gaat vooral ook over de "afstand" van de individuele mens tot natuur, tot geopolitiek. Voel ik me onderdeel van het probleem? Voel ik verantwoording, wat is mijn rol en draagt die positief of negatief bij? "Zie" ik, en spoort het me aan tot actie of "Kijk" ik, alsof het mij niet aangaat?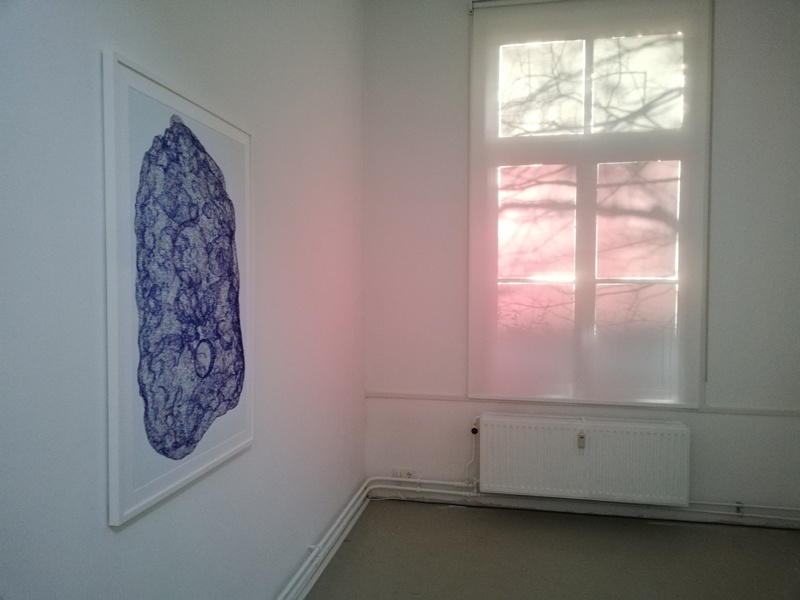 Ritutal to the Night, still van video 2021.
Van Oost naar West maak ik de tweede stop bij MelkwegEXPO, en ook hier loopt iedereen vrolijk rond met glaasjes wijn en is het thema natuur en de mens. De inheemse leer van de "Eervolle Oogst" is het uitgangspunt van de tentoonstelling. Hoe groeien we naar een evenwichtige en gebalanceerde wereld waar de mens verbonden en verstrengeld is en organisch leeft niet alleen met elkaar maar met alle andere elementen in de natuur.
ALL FLOURISHING IS MUTAL, groepstentoonstelling (Melkweg)
Mirte van den Bos, poëzie, 2022
Ella Yolande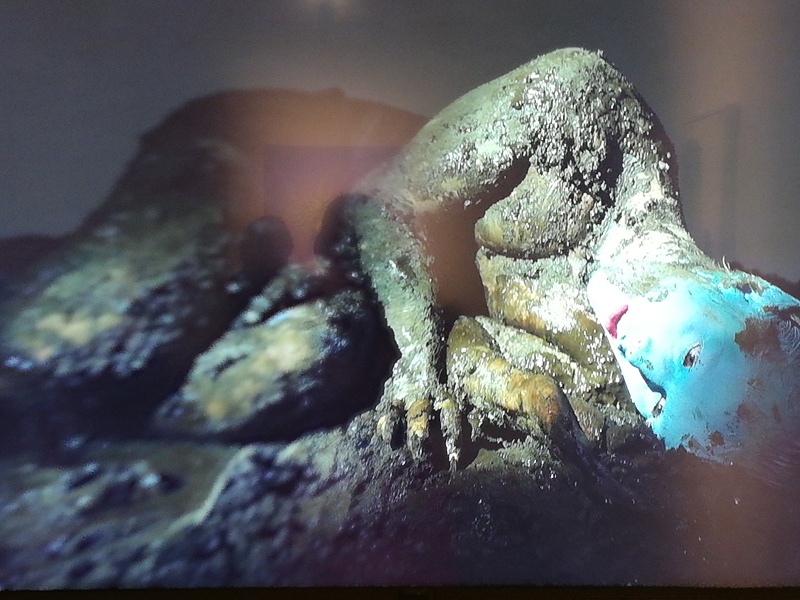 Jasper Griepink, Earth (hurt), video 2021
Sommige video's moet je eigenlijk niet op een tv-schermpje zien maar als installatie groot scherm met goede audio zodat je je er helemaal in kan verliezen en je het moeras kan ruiken! In het geval van dit werk van Griepink (en andere werken van zijn hand) kan dat ook binnenkort in mei/juni bij MU in Eindhoven is aangekondigd (nog niet op de website).
Layla Durrani, Regeneration, Reciporicty, muurschildering, 2022
Sarah Fokke, The Watery Body, sculptuur, 2021
Schoonheid in tijdelijkheid in de relatie met de omgeving. Het object, afgietsel van de hand van de kunstenaar, in de vitrine is gemaakt van biomateriaal uit algen en ik lees dat het langzaam zal vergaan tijdens de tentoonstelling. "Note to self": nog een keer binnenlopen hoe het er dan uitziet op in april.
Kunstenaars: Mirte van den Bos (NL), Layla Durrani (US), Sarah Fokke (NL), Jasper Griepink (NL), Queer Nature (US), Liza Prins (NL), Sissel Marie Tonn (DE) and Ella Yolande (UK). Curators: Colette Olof (melkweg), Jasper Griepink (gastcurator).
Ritual of the Night, solo tentoonstelling Jaehun Park
Nog te zien tot 26 maart, 2022
Finissage 26 maart:
15.00 – 16.00 Artist talk met Sanneke Huisman (kunstcriticus)
16.30 – 17.00 Audio/visuele performance met Ivo Bol (Sound Artist)
Bradwolff Projects
Oetewalerstraat 73
1093 MD Amsterdam
W: bradwolffprojects.nl
Email: info@burobradwolff.nl
All Flourishing is Mutal
Nog te zien tot 10 april, 2022
Melkweg EXPO
Marnixstraat 409
Amsterdam
W: www.melkweg.nl/en/themes/expo